Community PARTners
CTSI makes community health a priority. The Community PARTners Core links researchers and the community by partnering with diverse community members and organizations to build on a community's strengths, as well as learn about health topics. This engagement speeds up the time it typically takes to get research into the hands of those who will benefit.  
The Community PARTners Core supports nearly 200 ongoing member and organizational partnerships that encourage scientific findings to better human health and mental health. These relationships bring people together to collaborate, foster public trust, and ultimately promote health equity for all.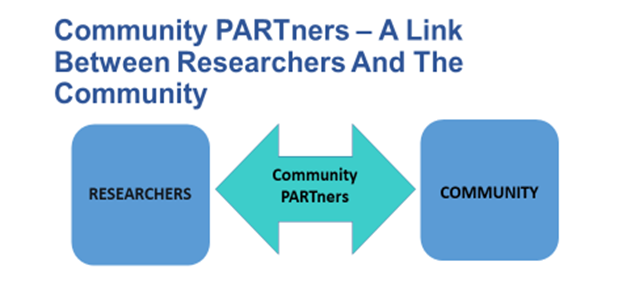 For researchers, the Core's team helps develop studies that address the complex health questions which community partners state are most concerning. It provides training as well as funding opportunities for research development and partnered data collection. 
For community organizations, the Core assists with providing evidence-based research interventions and practices. It supports communities with "getting the word out" on health research awareness and education.   
Community PARTners resources are available for: 
Faculty members and students whose scholarly projects, practicum assignments, or dissertations have a community-engagement component. 
Community organizations interested in partnering with academic researchers to help inform their organization's health priorities. 
If you are a student looking to receive more information about working in communities, we suggest that you first consult your faculty mentors, inquire about resources related to community engagement, and explore ways in which your project can be part of a sustainable community effort. 
To get started, submit a request for a consultation. 
Join the Community PARTners mailing list to receive bi-weekly email announcements about available workshops, outreach events, educational classes, training materials, and other resources. 
For more information or to schedule a consultation, contact a Research Facilitator.
---
Grantees of these funds are building healthier communities by creating ideas on how to best share evidence-based science knowledge with their constituents. Community members then pass on their knowledge earned to those in their circles, shortening the time research takes to otherwise be circulated.
---
The Community PARTners Core in collaboration with the Institutional Review Board (IRB) and Community Research Advisory Board (CRAB) has developed a research ethics training for community partners involved in research studies. 
---
Community PARTners and Comparative Effectiveness Research Core leaders have developed a Stakeholder Engagement Resource Guide to assist investigators who are interested in community-engaged research.
---
The Community Partners Core team can support researchers who are interested in including non-English speaking participants or who have any questions about multilingual research methods (e.g., translations, interpretation, recruitment). Please complete a CTSI request and a team member will be in touch.
---
Community Engagement Studios provide an accessible entry point in gaining community input on the development or implementation of a research project. Community Engagement Studios are utilized to dig deeper into the individual's knowledge and lived experience as it might relate to the study. The community experts participating can come from a variety of backgrounds with one shared experience, like a particular health condition.
---
The Community PARTners Core supports a large number of ongoing school partnerships across Western Pennsylvania that encourage scientific findings to better human health and mental health for those in a school setting.
For researchers, the community engagement team focused on the school environment helps develop studies that address the complex questions school leaders, students, and families state are the most critical. Together, we think about best practices that are culturally responsive.
We provide background information on general school policies and guidelines, introductions to schools, assistance with IRB protocols, letters of support, presentations to school administrators, contracts, and more.
For community organizations working with schools, we assist with background information on school policies and guidelines, presentations and introductions to school administrators, and more.
The Community PARTners Core supports researchers and community organizations to disseminate findings and information about programming to school administrators, personnel, students, and families.
If you received services through the Clinical and Translational Science Institute (CTSI) that contributed to the scientific knowledge disseminated in publications, please acknowledge CTSI with the following citation:
The project described was supported by the National Institutes of Health through Grant Number UL1TR001857.